Skip to the content
Jail has a distinct impression on every person's mind since childhood- a dingy dark space full of negativity and some old defunct structures giving a sense of loneliness, away from regular routine with high walls, no control and no connection with the outside world. The point where a jail has to be transformed into a civic space involves the consideration of many factors, given the contrast. The process involves the transformation of many factors to break this feeling of captivity yet retain the essence of the jail.
A civic space defines itself in many ways- it defines Freedom which is completely contradictory to what the space earlier was. Some other factors would be Equality and Democracy. Civic space invites one and all i.e. people of all castes, economic classes and all strata. In the process of revitalization, the Trace and the story of the jail must remain which leaves a fresh impression on people's minds. The jail has had an important role to play in the history of the city, as it was earlier used as stables for horses who served the royal family.
The civic space could be such that there would be an experience of multiple expressions such as FREEDOM, HOPE, VISION, and TRACE, thus depicting or exploring various journeys. While the journey of freedom could culminate amidst the dense tall trees, the journey of memory could be through an exhibition space showcasing the strong history of the city. This entire path would be expressed with the play of the built v/s the unbuilt.
The site was organised into 5 zones: 4 zones which broke out from the exiting barracks and the fifth zone being the central watch tower plaza which was negotiated in two levels. Every zone (A, B, C, D) had an access to the lower level axis of exhibition spaces connecting to the central plaza. These carved out spaces were named as the Path of Freedom, Path of Equality, Path of Trace and Path of Vision and would house exhibition centres for the History of the Maratha Empire, the culture, the history and the future of the city of Vadodara, respectively. All the blocks at ground level were organised from formal to informal functions so as to add value to the respective zones with their distinct characteristic.
The radial ambulatory, which remains a connection between all these zones, has semi-covered as well as covered spaces, inter-connecting the functions. The radial pathway is a defined path which interconnects the zones penetrating through the historic jail wall.
Diagram: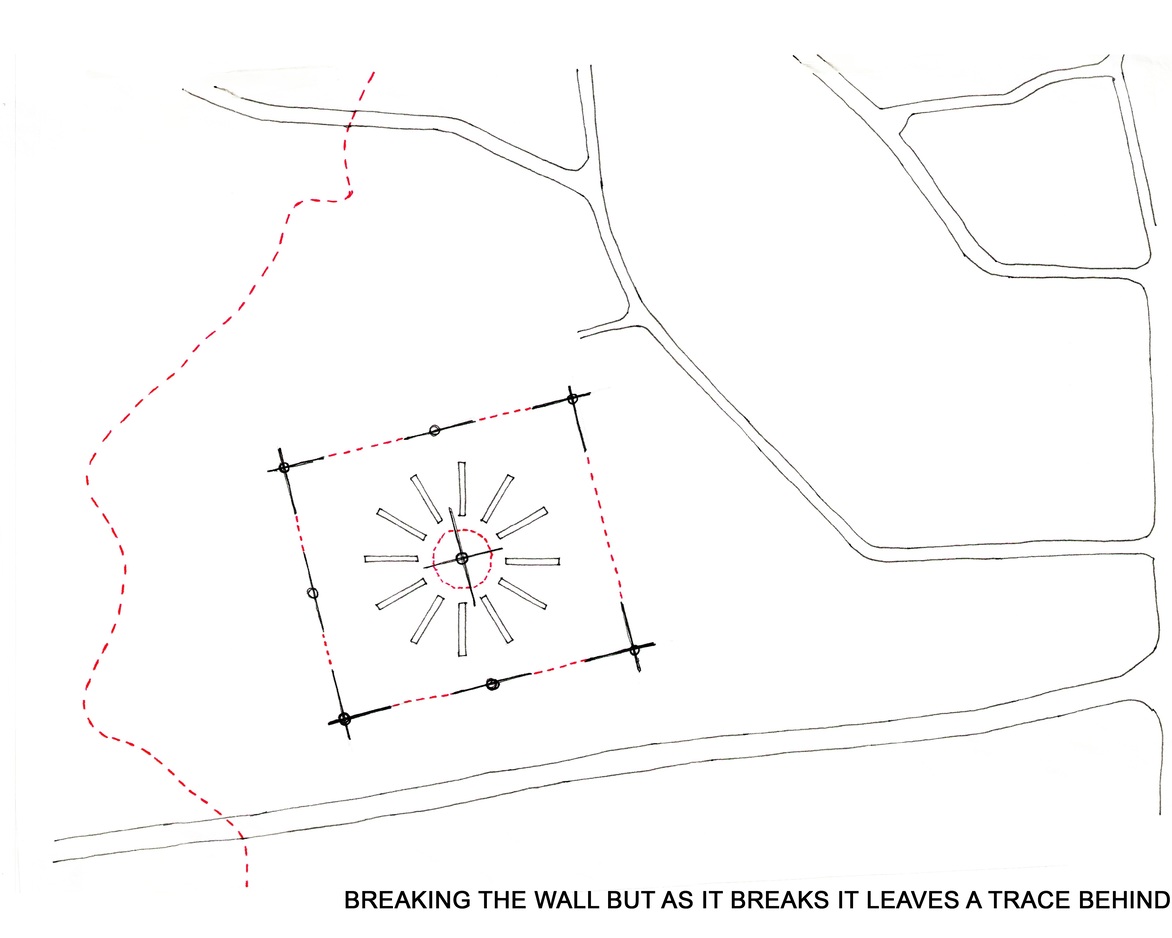 Drawing:
Models:
Views: