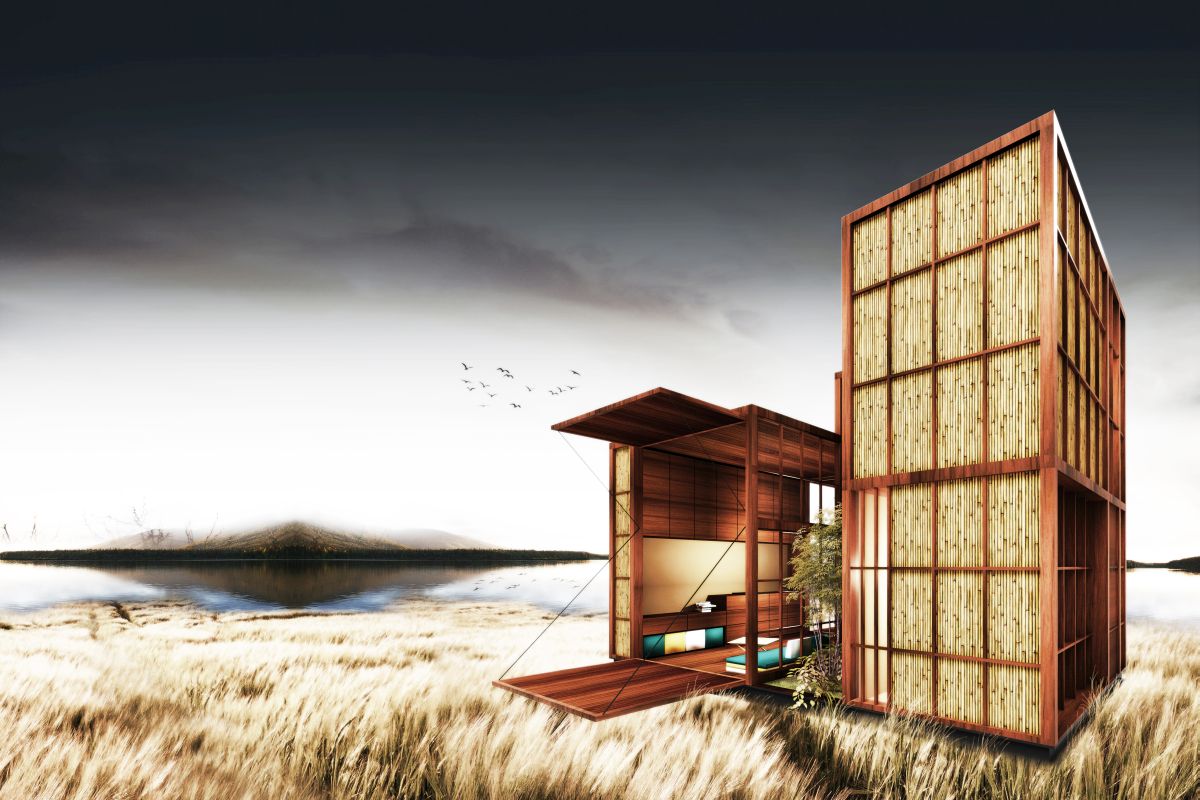 Planning
The house is envisaged as two cuboids, one public, and one private, separated by a small green court in-between, while connected by a stair. The 3M high Living+Kitchen cuboid overlooks this court as the immediate view ensuring privacy when needed. The two shorter sides of the living can drop down to become two cantilevered decks, connecting the inside to the outside, also channelizing the breezes to flow through the house. The second cuboid, 5m high, houses a toilet on the lower level, and a bed space on the upper level.
Strategy Application
A kisaan could place this tiny abode anywhere on his farm, work here, rest here. He could also tow the house to a nearby town, to sell his yield directly to the end user, where the house transforms into his shop. He could also transfigure it into a homestay by inviting city dwellers to stay here, establishing a symbiotic relationship, where the guests learn/live a countryside farm life while the farmer earns by hosting them.
Construct
The house is built as a composite of a locally available wooden framework with easily replaceable bamboo infill panels, resting on a sturdy MS I-frame. The floor and ceiling are made of lightweight fibre-reinforced cement panels (aerocon), walls are internally finished in chipboard. The entire house is envisaged as a Dry Construct, to curb damage during mobility. Modular/foldable seating, beds, tables, and chairs ensure space optimization / functional adaptability.
Sustainable Measures
• Optimized footprint, multi-functional / adaptive spaces
• Efficient Structural Grid spans with conventional construction techniques
• Cross-ventilated spaces, with necessary overhangs
• Well-insulated/ cost-effective borax-treated bamboo infill panels
• Locally available / Lightweight materials with lesser embodied-energy
• Hydrophonic vegetation grown in troughs as a Green Roof
• Additional layer of thermal insulation through Green Roof
• Detachable Solar Panels installed on the roof
• Green court with reed bed for wastewater cleansing
• House rested on 4 pedestals, without disturbing the natural ground