Statement –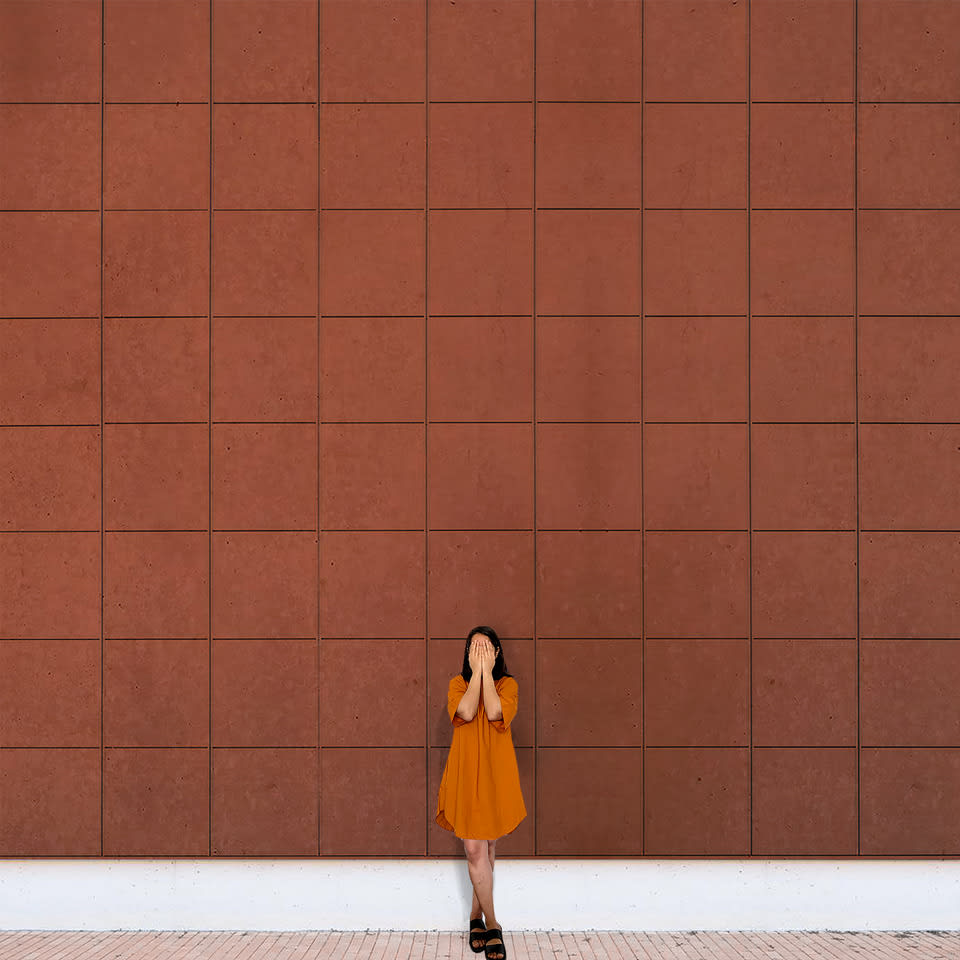 "Giving people a small ' ! ' moment." – Studio Nendo
This statement has helped shape my approach to design and has been at the centre of my design process. I aim to design spaces that inspire and excite.
Having trained as an architect, my work aims to be methodical, and my vision of interiors seeks structure. I like design to be curious, introspective and inquisitive, that delves into an idea bigger than just spatial experience.
Studying at the RCA has pushed my understanding on how various spaces can be imagined and interpreted. My projects here have explored the boundaries between architecture, interiors and other fields of art and design, opening my mind to infinite possibilities.
Having grown up in India, a diverse country that is perennially trying to strike a balance between tradition and modernity, I try to bring a unique perspective and a complexity of thinking to my work. I enjoy making spaces that are complex in conception but are easy to experience and engage with. The Display Platform has helped me develop this art of storytelling through a multi-layered spatial design language. My designs' complexity lies in the nuances of the narrative that reveals itself through a simplistic imagery and relaxed storytelling. Some might say that a recurring theme that runs through all my projects is the duality of perception.
I want people who experience my designs to feel small " ! " moments intuitively.
The Brief –
What is the Architecture of a Digital Space?
Retail stores are looking for innovative ways to create flexible, experiential and sensorial spaces. By observing how digital interfaces allow for an efficient and multidisciplinary user experience, how can we marry the two to create a more dynamic retail experience than ever before?
"Translating the digital into the physical"
Border&Fall is a website and digital-only platform who challenge preconceived notions of the sari as a traditional, outdated or gender specific garment. Their mission is targeting a global youth audience to reinvent and change this perception through artist collaborations and creative multimedia such as talks, films, and exhibitions.
This project was conceived as a space to encapsulate both the essence of Border&Fall website and the Sari, a place for boundless creativity, adaptability and flexibility. The space derives its identity in the interplay between the ideas of a sari being a 9-yard-long blank canvas for personal expression and the website being an infinite blank canvas for a multimedia-rich user interaction.
Border&Fall as a concept space with its structure and systems, enables the stories of the collaborating artists to shine through, just like a weaver weaves new stories on a highly mechanised loom. The design philosophy of the store is to allow collaborators a blank canvas, indeed a 'magic' canvas on which to display their work. An elaborate system of invisible jigs, fixtures and pulleys ensure that the space is able to transform to respond to the most dynamic of spatial configurations.
The space treads a balance between the space's digital and physical (tactile) elements by creating a strong and clear dialogue between the two; allowing it to offer itself as a blank canvas, nimbly taking on the identity of the voice(s) and the programme it represents. The space in essence, thus, mimics the fluidity of a Sari, acting like an architectural, ever changing display, with a vivid and mesmeric user experience
Interpreting The Brief

Spatial Attributes — If the website were a physical space, the key attributes that would translate into the real world would be Adaptability, Flexibility and the Ability to be a Blank Canvas.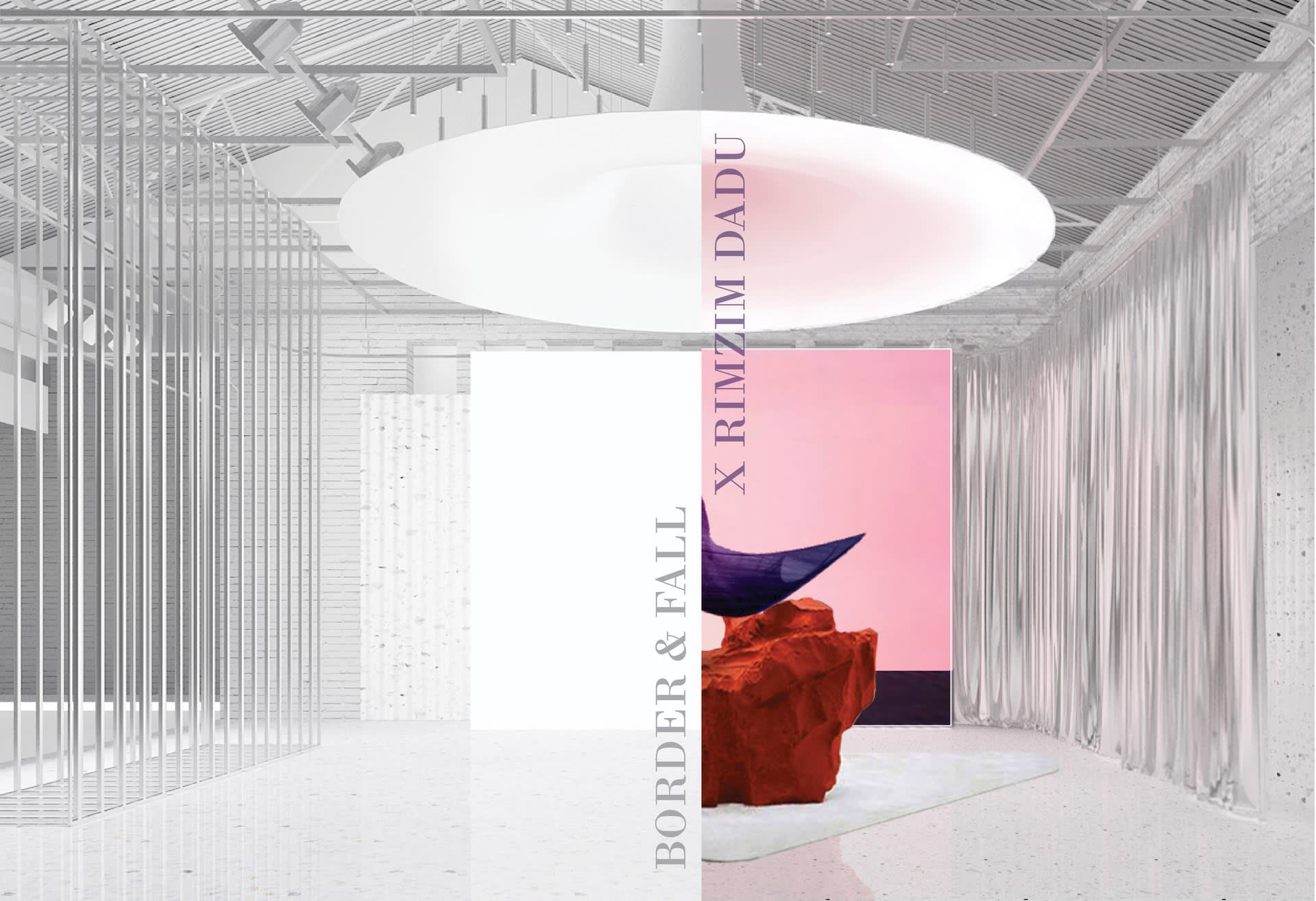 Theatre X — This project has been conceptualized in two parts. The first part details out the Border & Fall website as a physical space and the second half shows how the space transforms as a collaborator takes over.
Welcome to Theatre X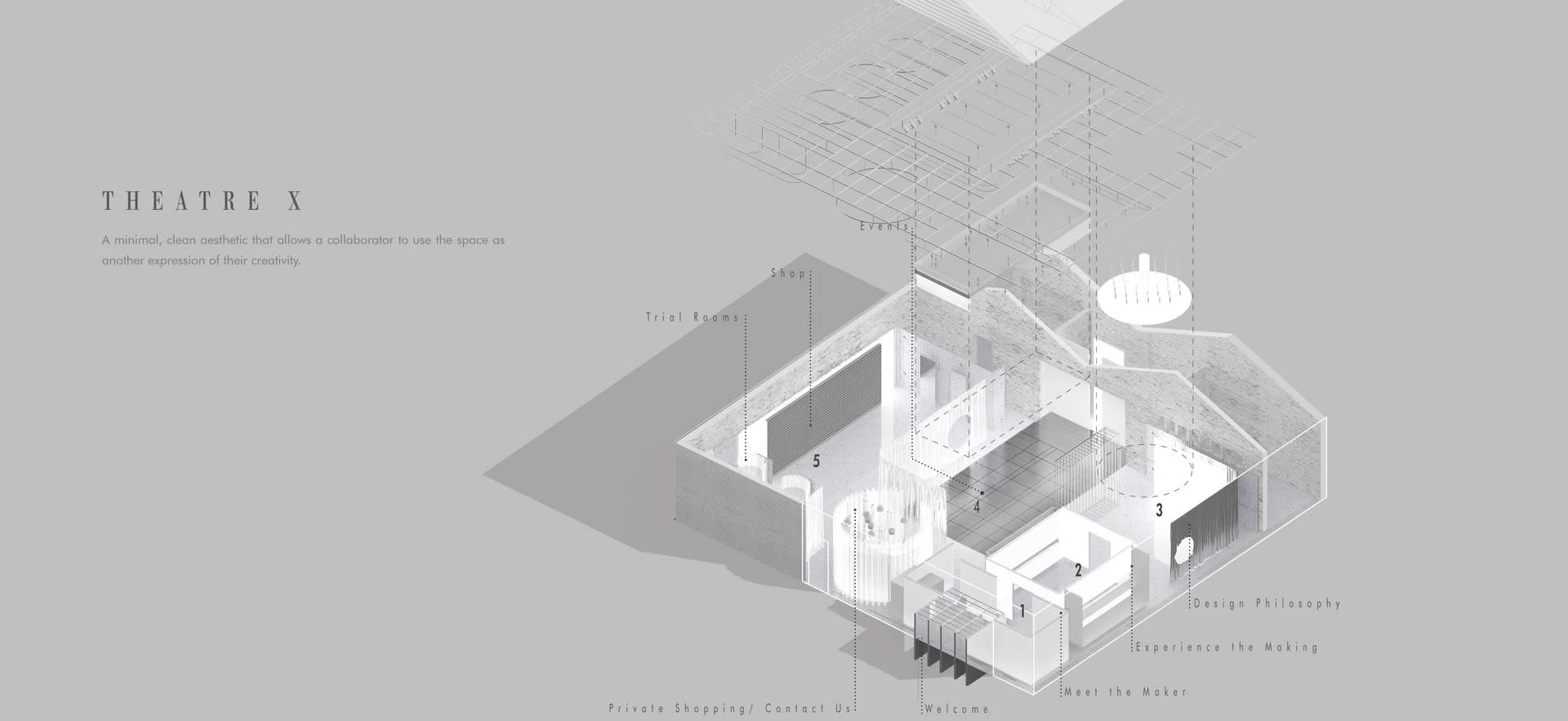 Spatial Design — A minimal, clean, aesthetic that allows a collaborator to use the space as another expression of their creativity.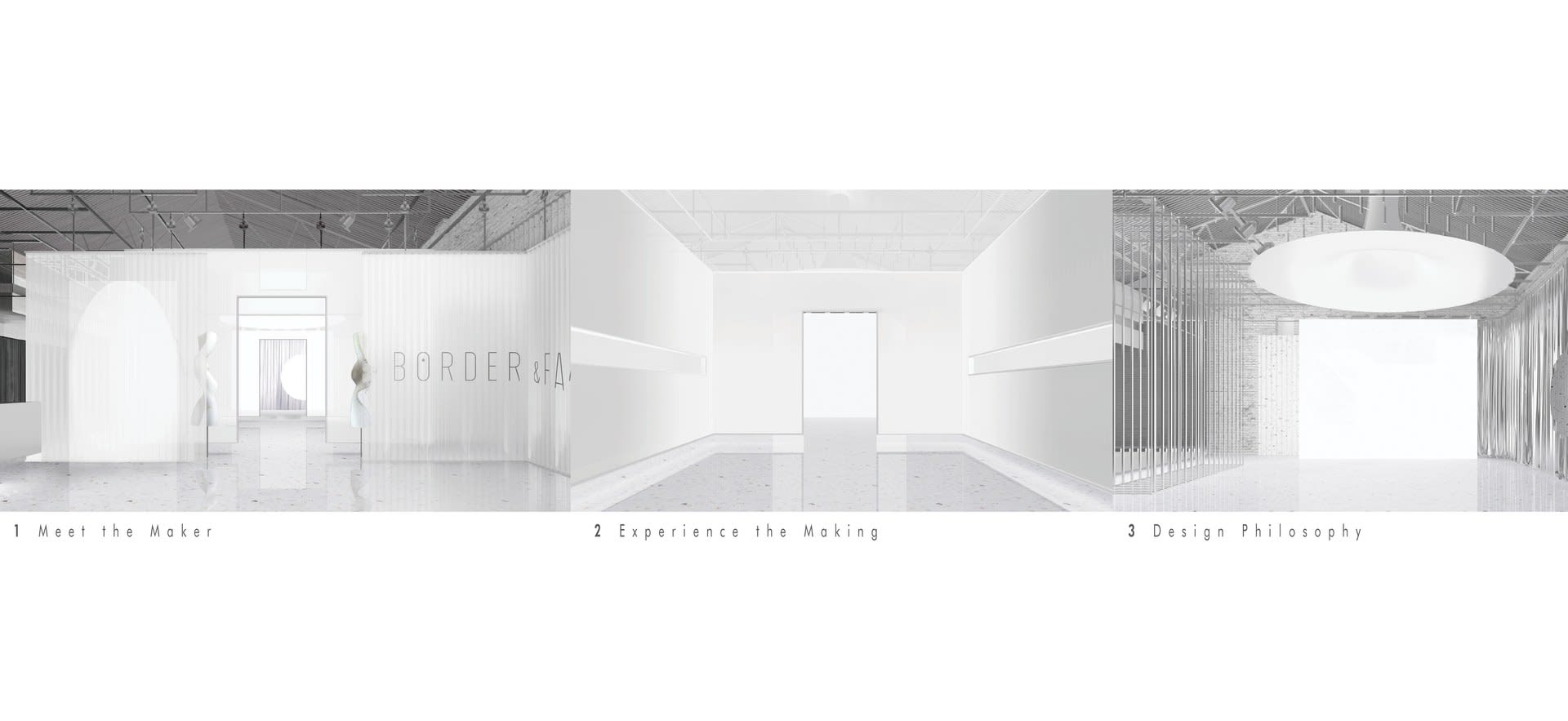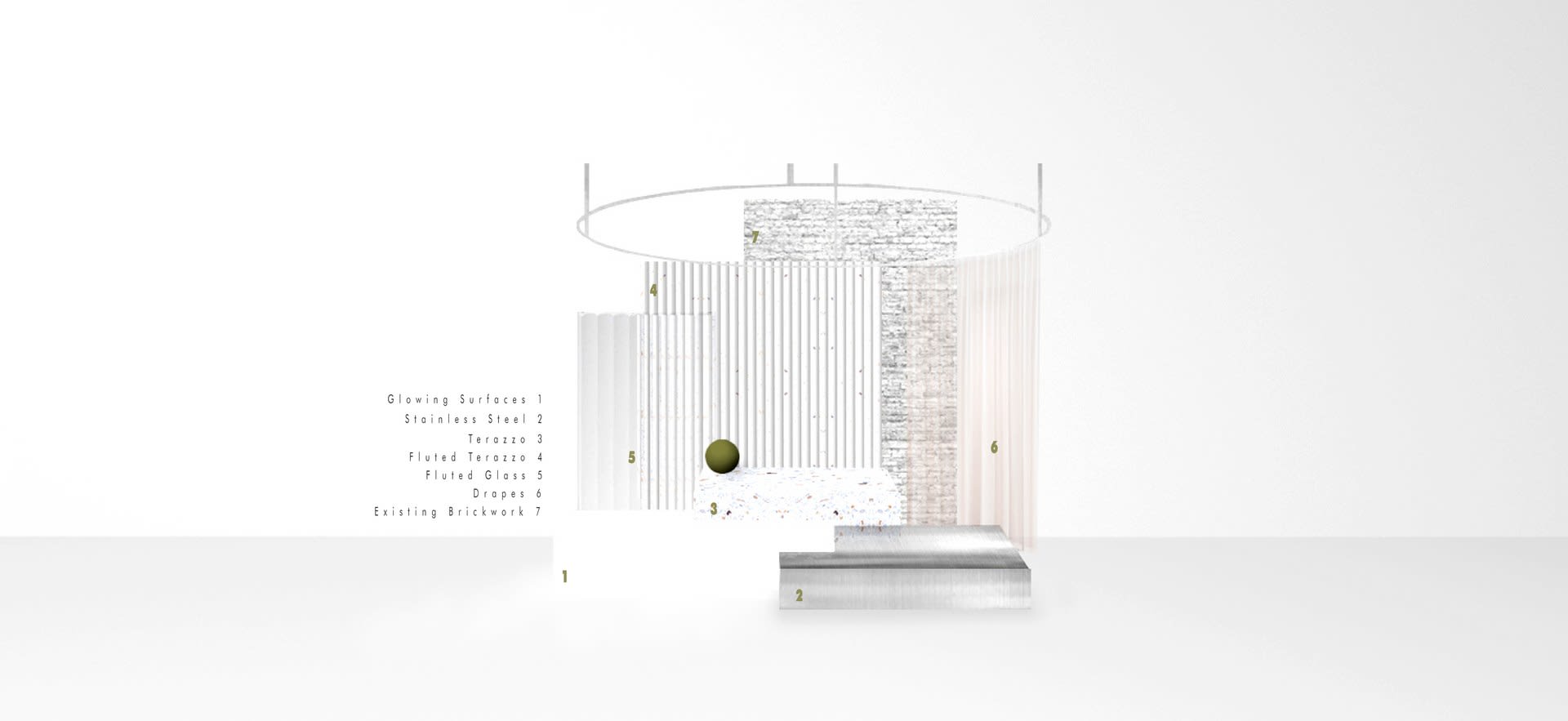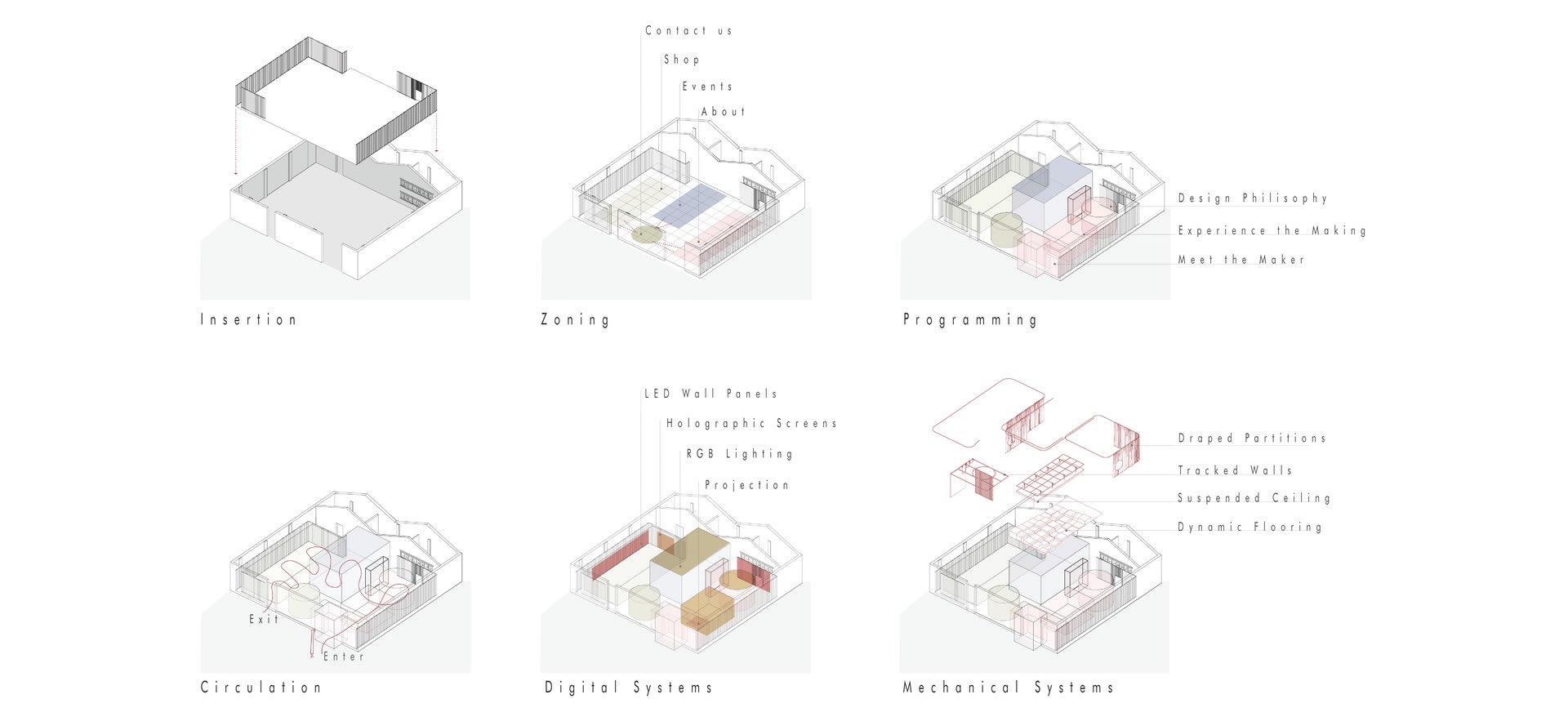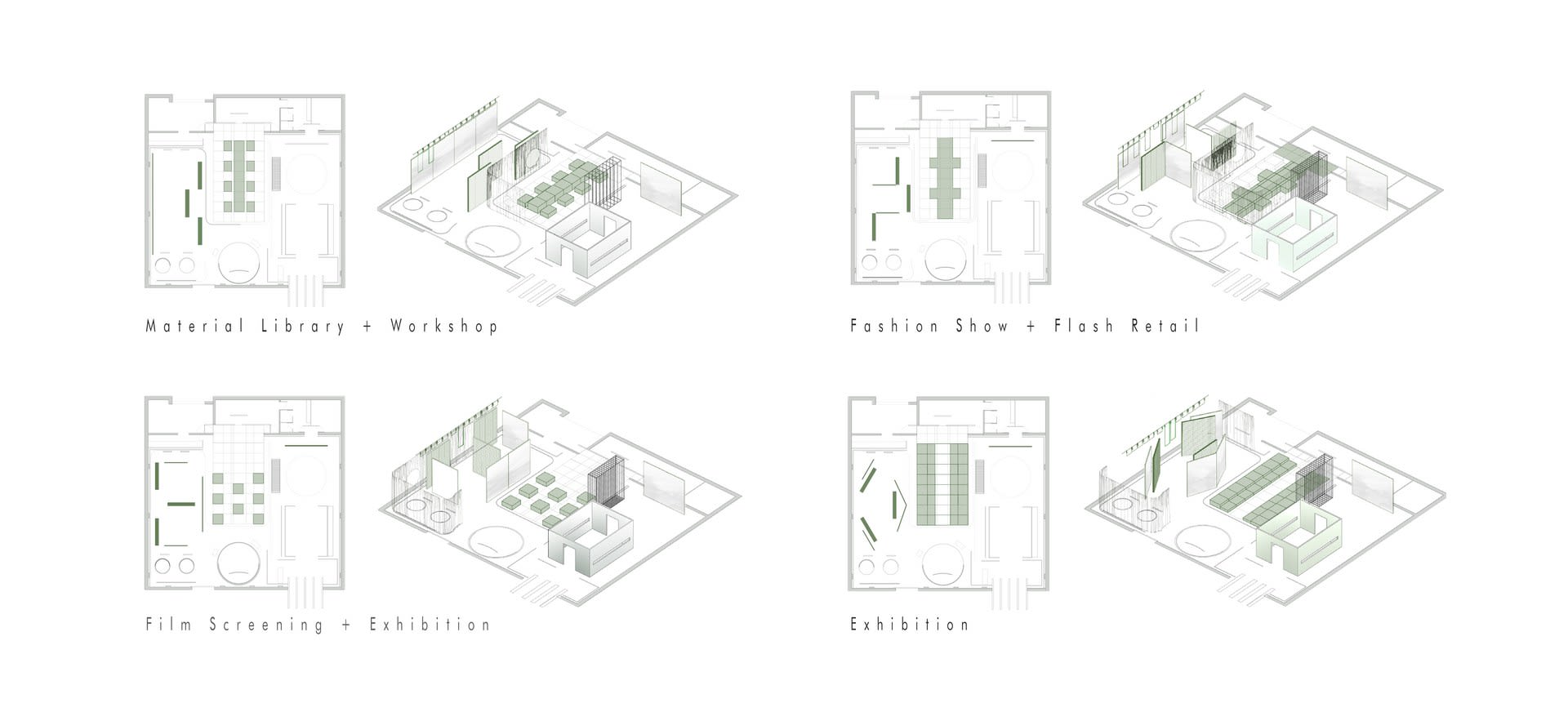 Spatial Flexibility — An elaborate system of invisible jigs, fixtures and systems ensure that the space is able to transform to respond to the most dynamic of spatial configurations
Border & Fall x Rimzim Dadu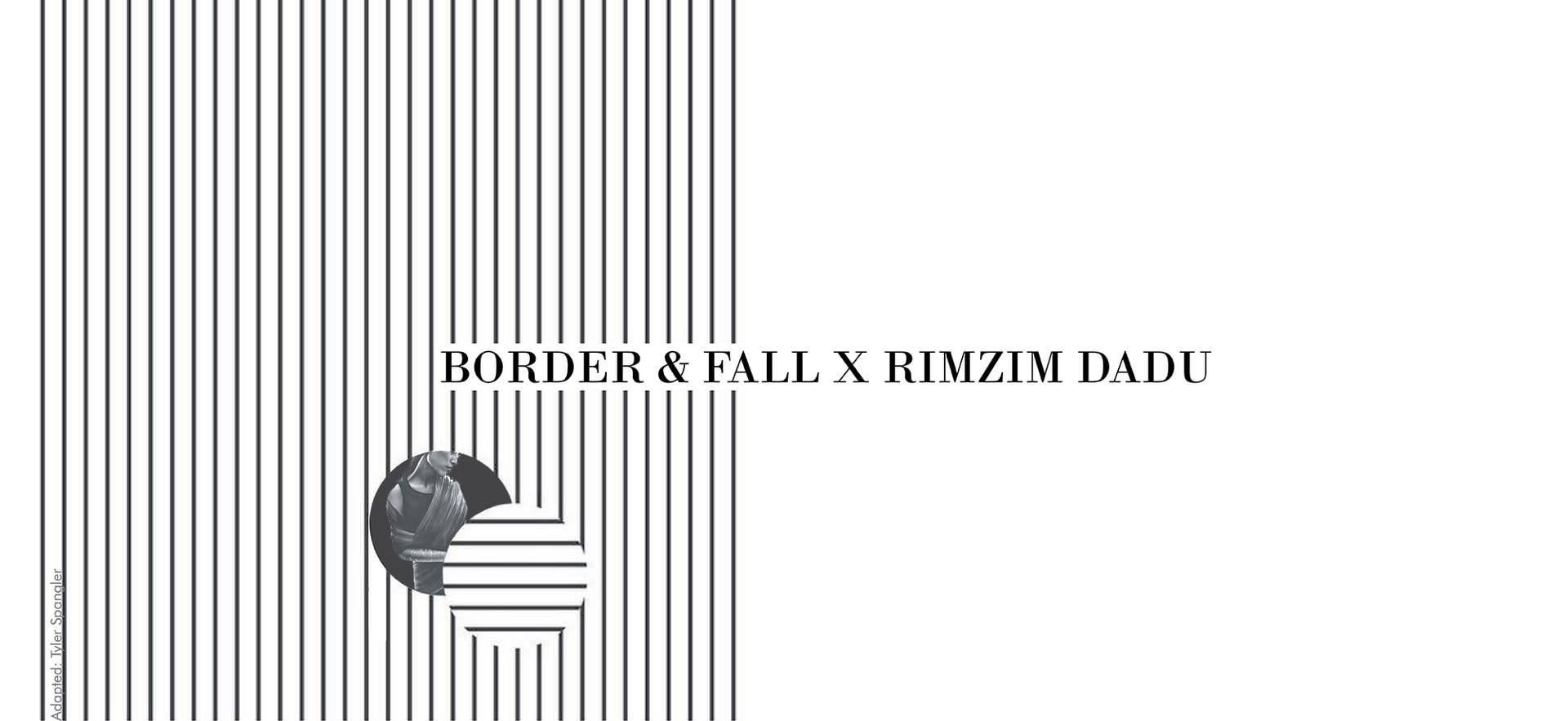 Border & Fall x Rimzim Dadu — "I am not a cut-and-sew designer. I like using fabrics that allow me to to transform their inherent character." Rimzim Dadu is known for her innovative use of materials, that challenge conventional methods and perceptions. She works with unconventional materials like metal, paper and plastic that are used as the building blocks for her textiles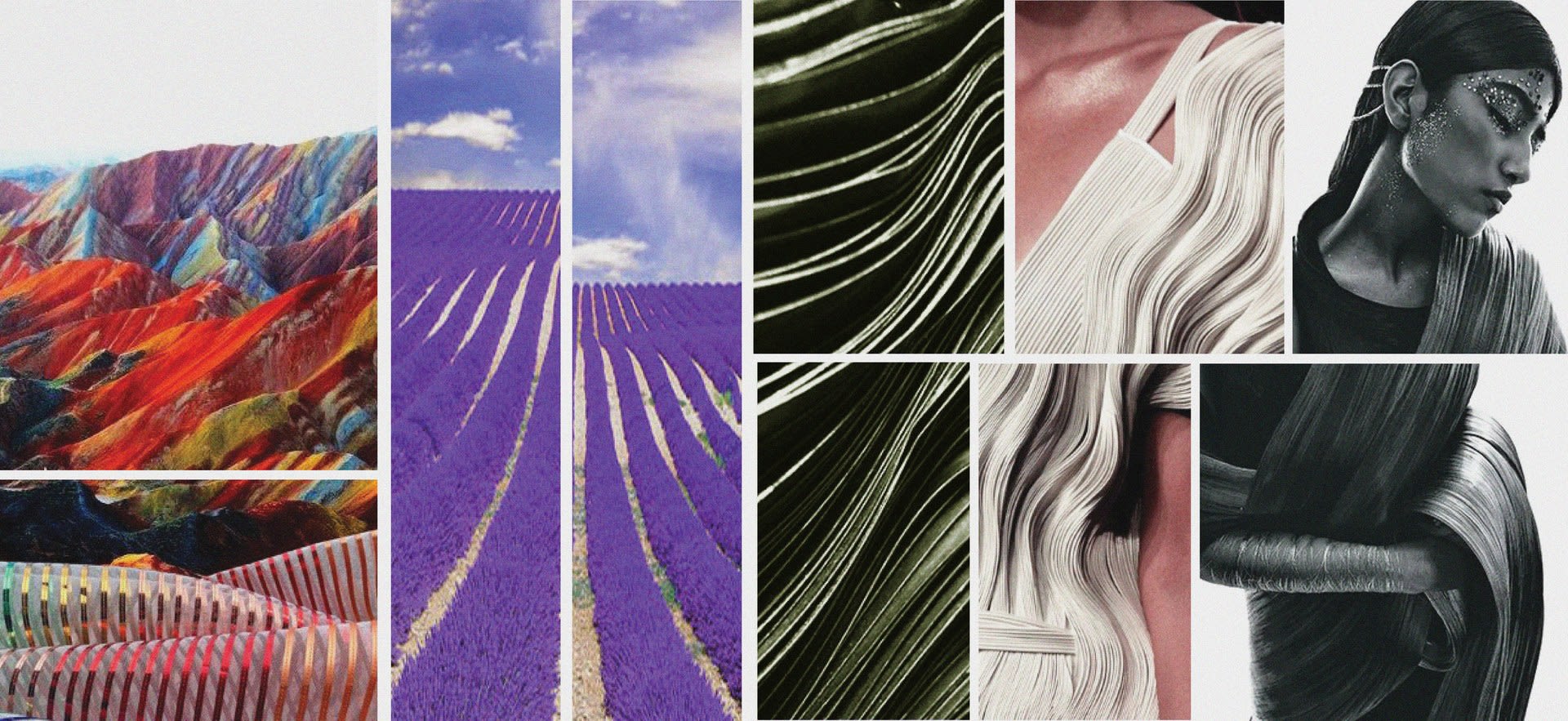 Invisible Landscapes — Interpreting Rimzim's work, it would seem as though she draws inspiration from her vivid travel memories, heavily inspired by vibrant, organic landscapes to create minimal, structured garments and textures.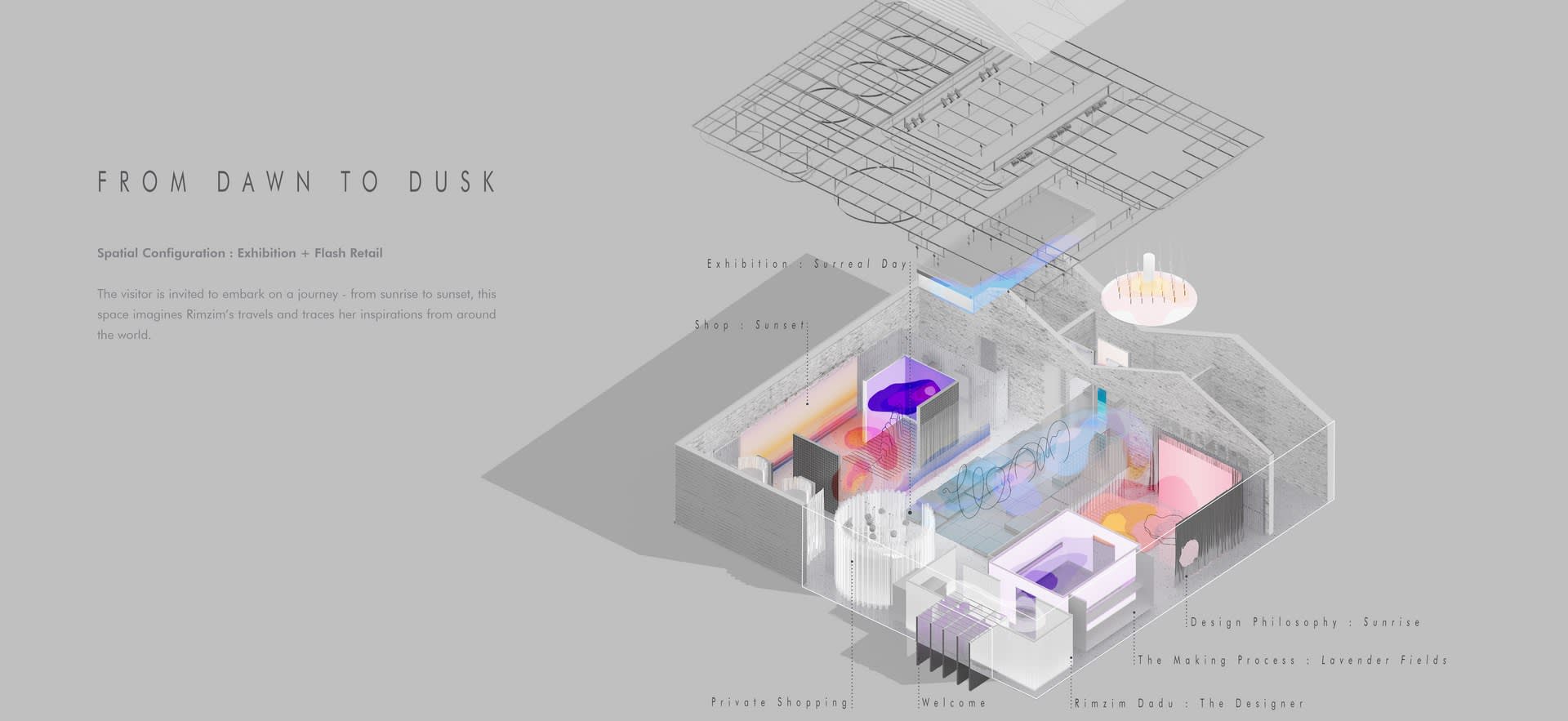 From Dusk to Dawn — The space reflects the delicate, surreal and structured essence of her work. Programmatically, the space has been planned as a user journey that includes immersion zones, installations, a central sculpture and an experiential retail environment.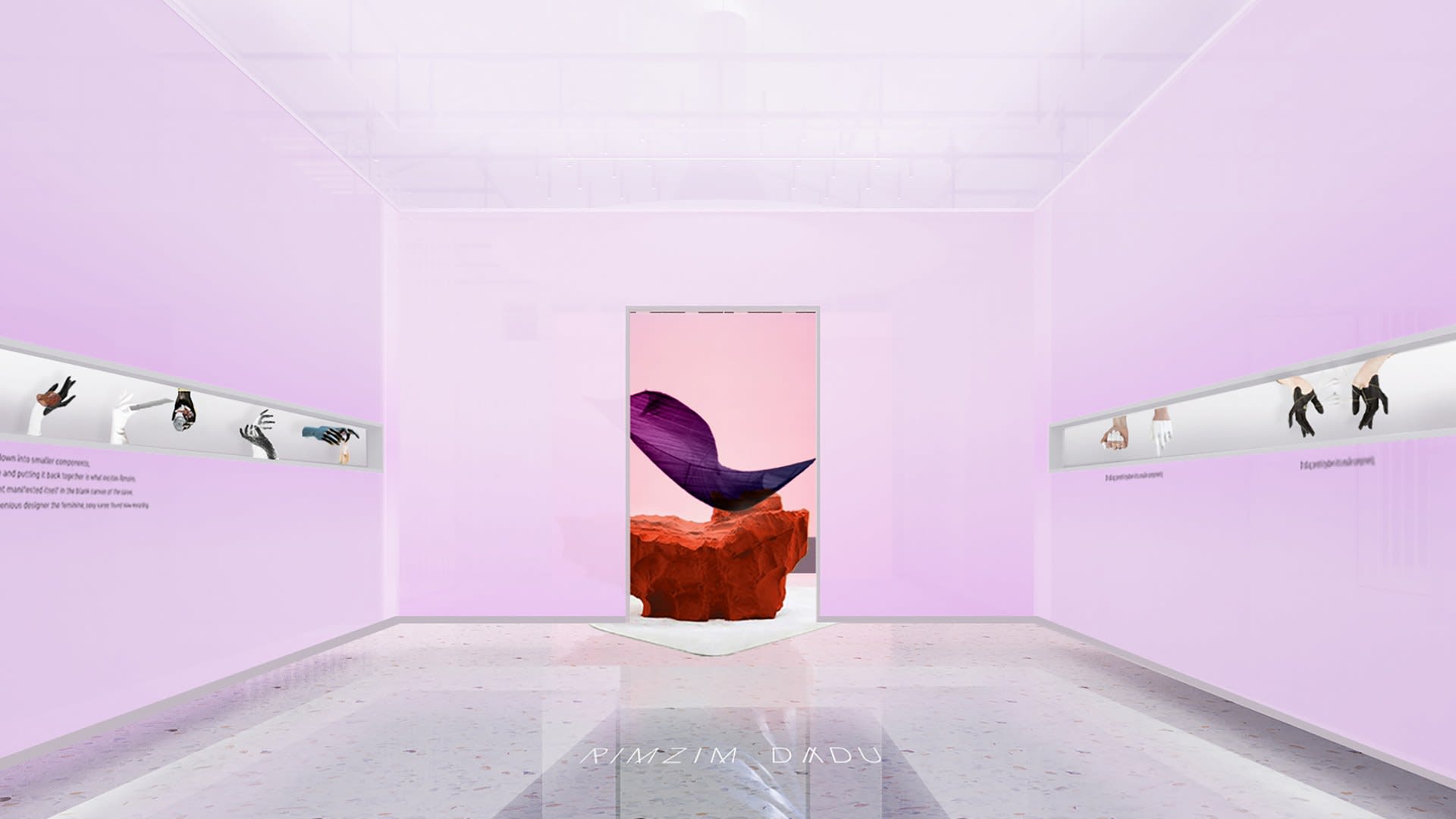 The Making Process : Lavender Fields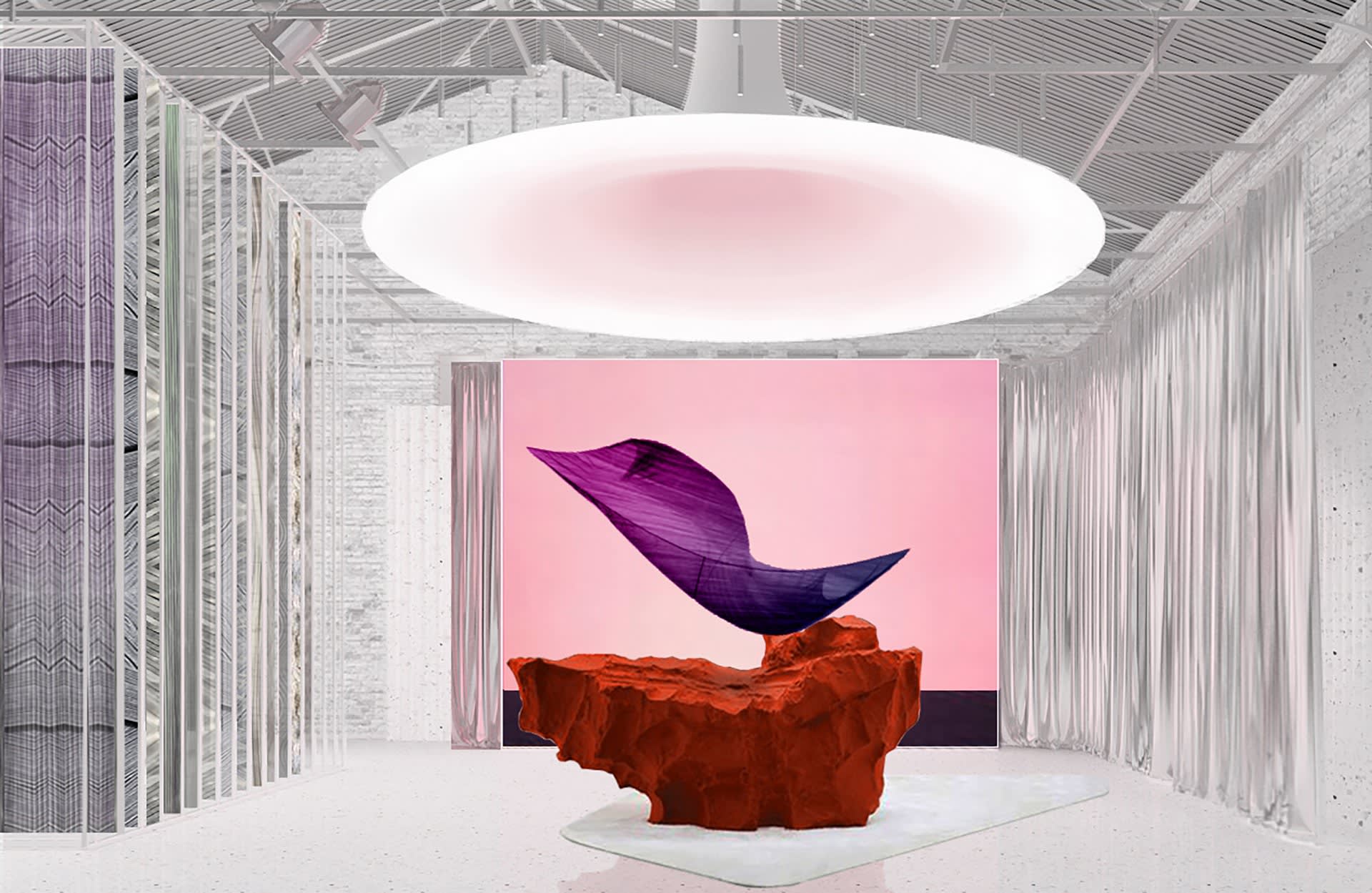 Design Philosophy : Sunrise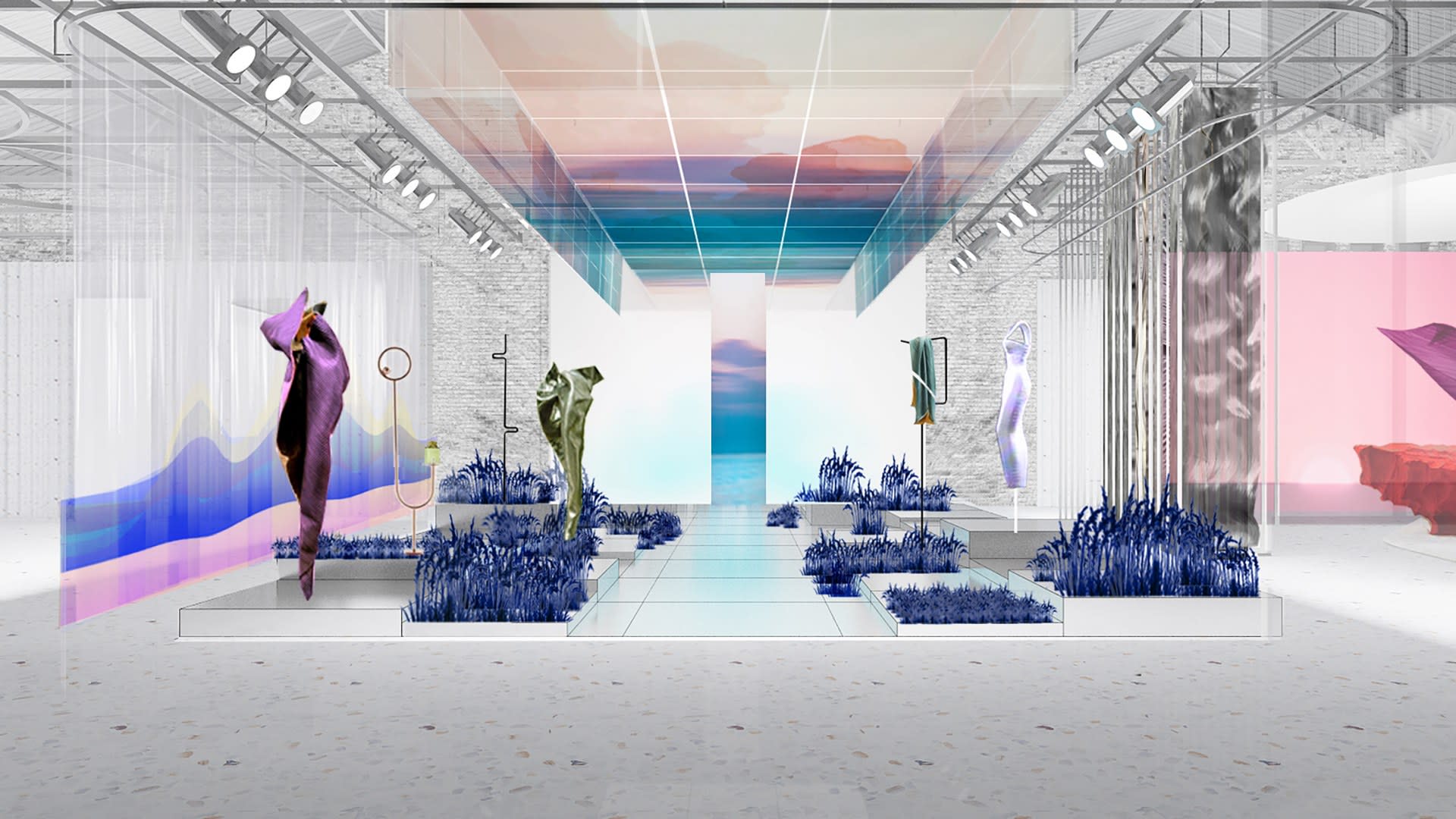 Exhibition : Surreal Day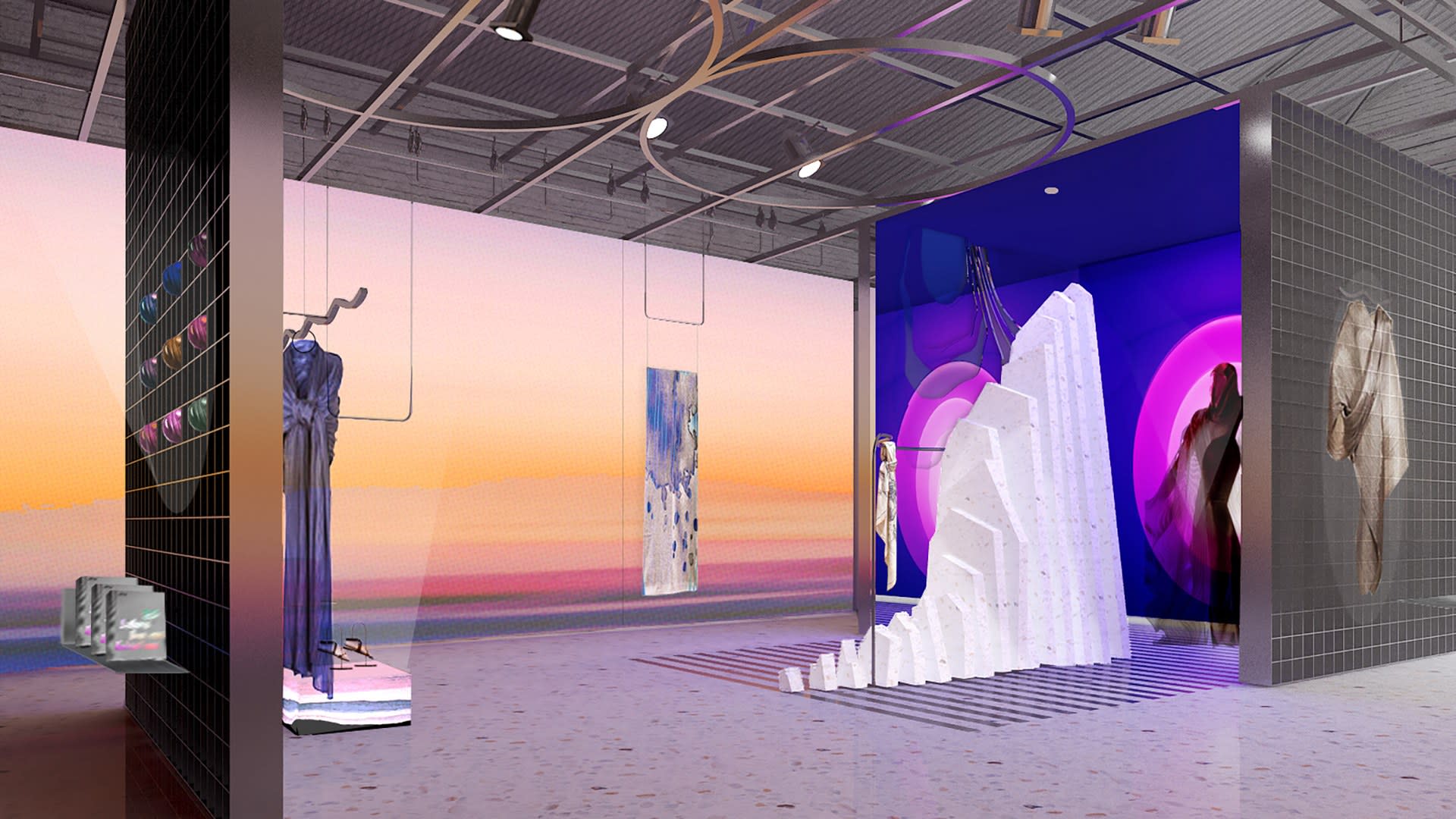 Shop : Sunset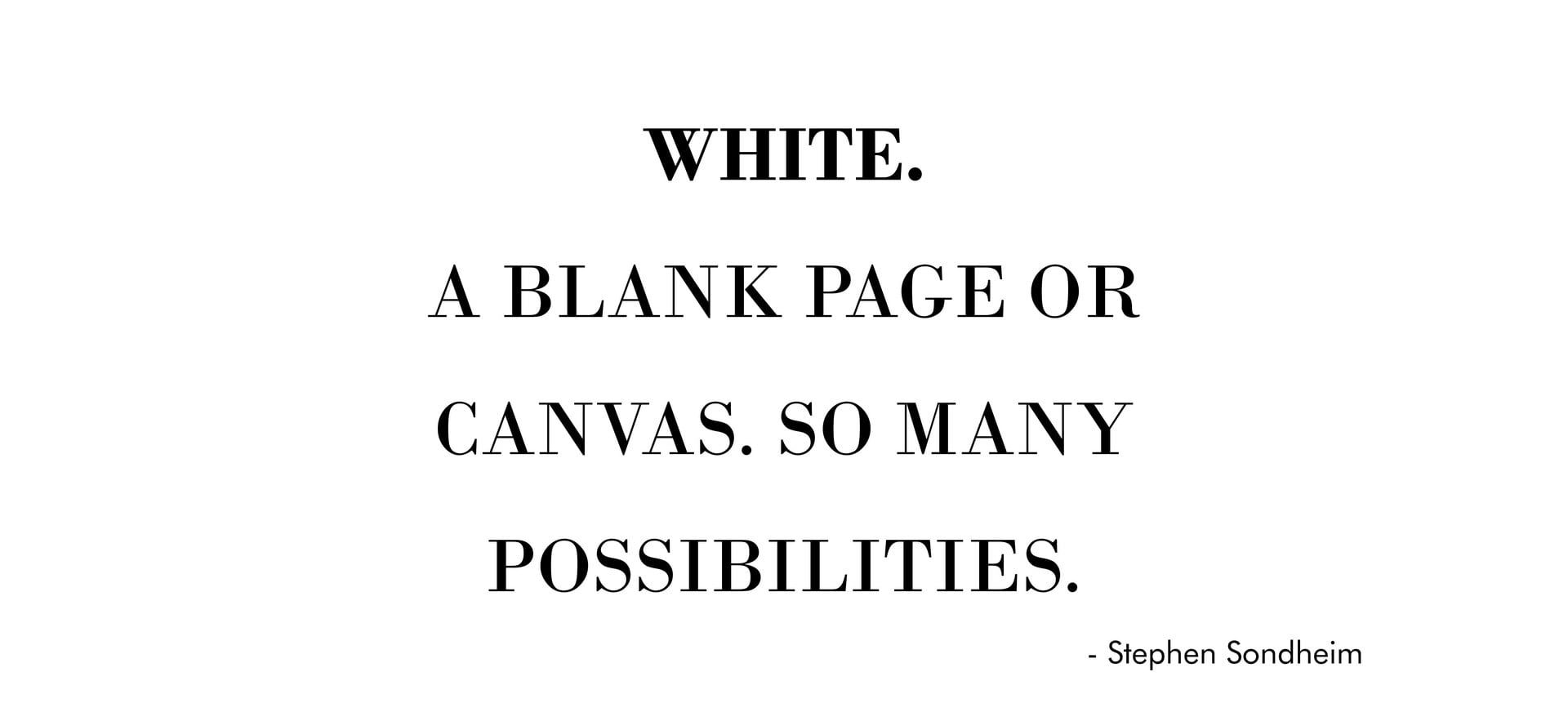 White, A Blank Canvas — With this pandemic, it is evident that people will be hesitant to step out. Though, physical shops caught in a conventional sense will soon be less relevant, purely digital spaces, on the other hand, feel removed from a human connection. In this context, this project gains a new resonance. I have tried to make this space a part of a larger conversation. Almost as a filler in the community, one where people come to build a wide variety of experiences and is not limited by a certain person or function. Truly a white, blank canvas.