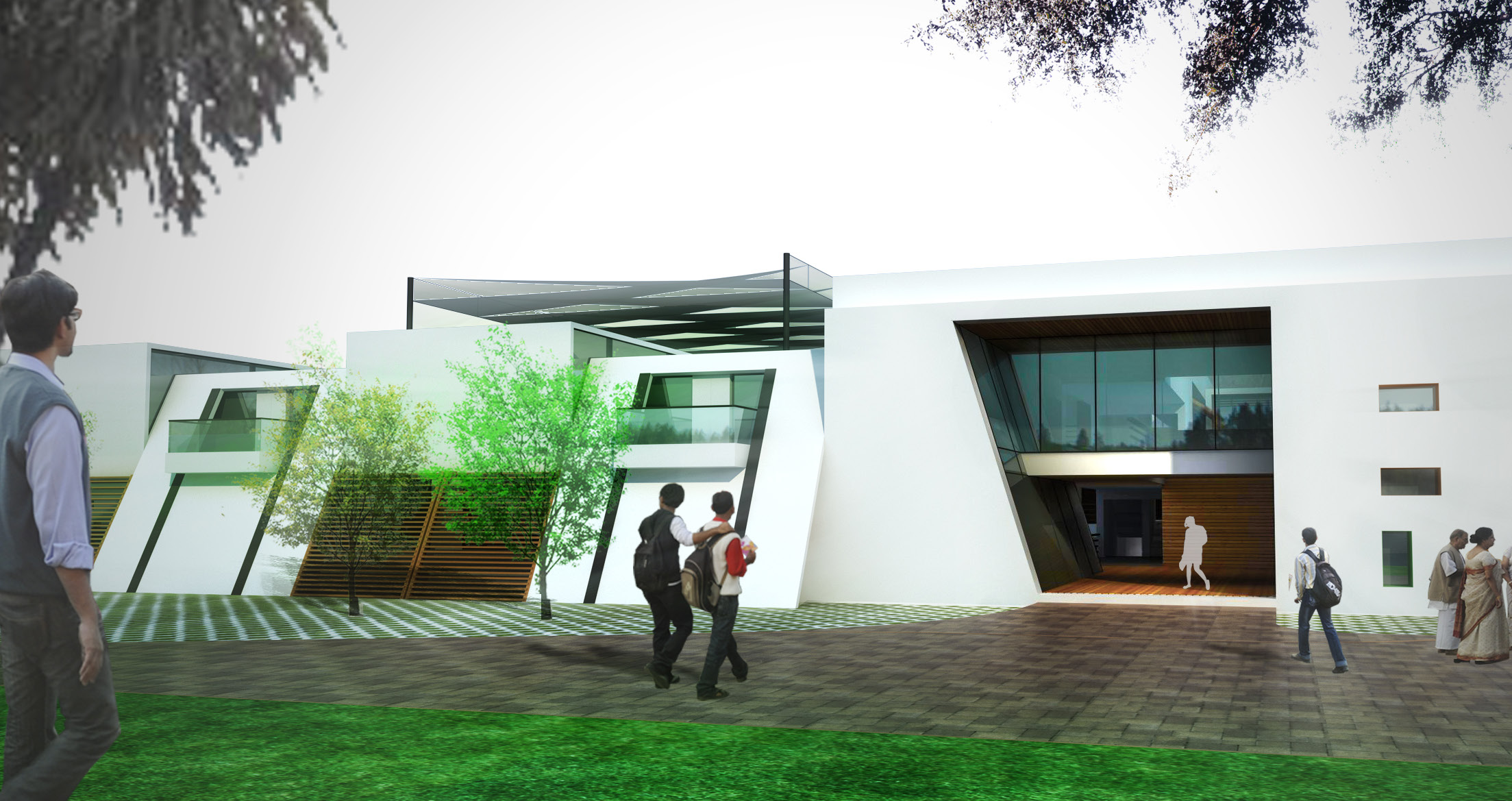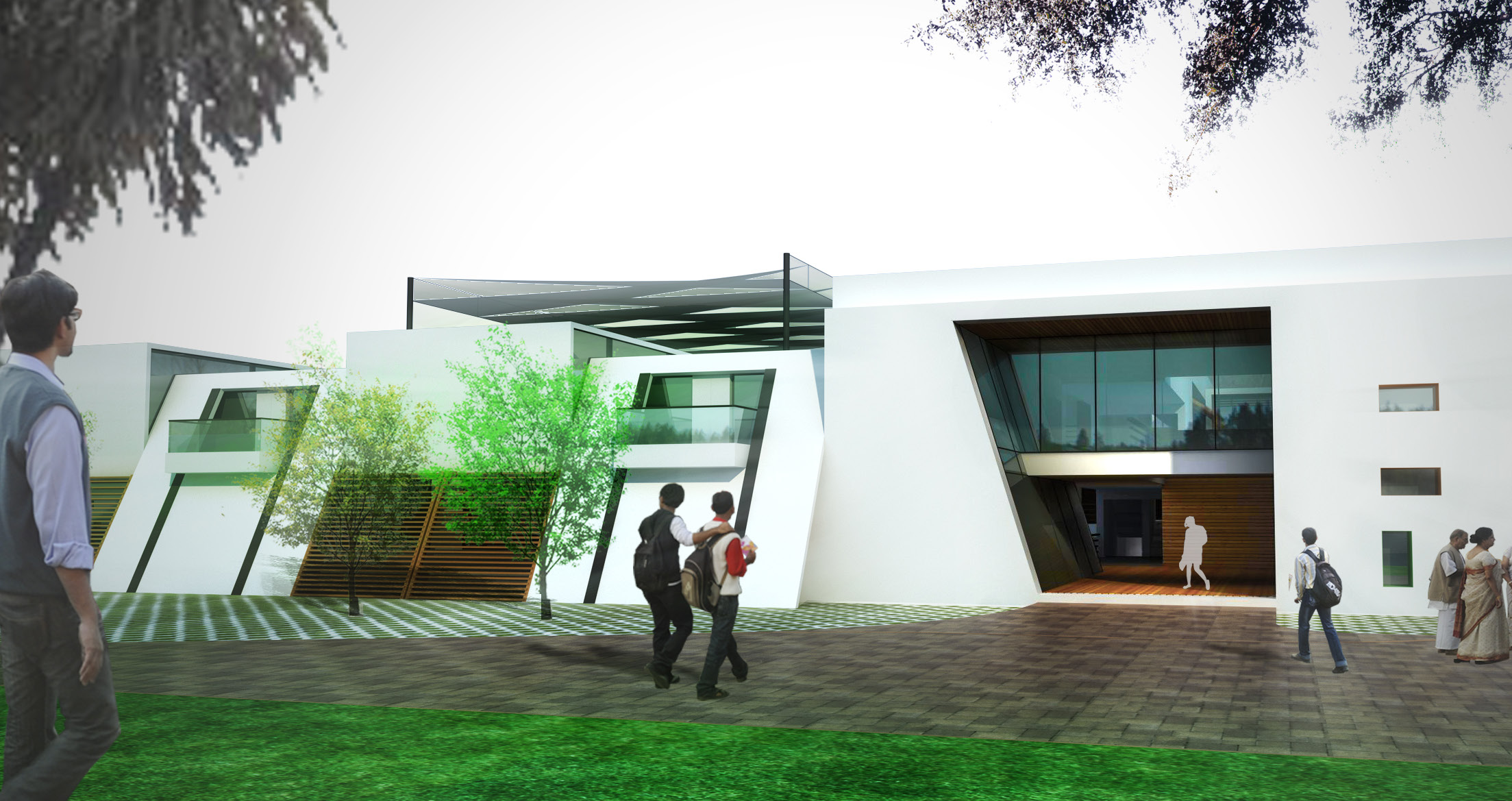 Diu Educational Hub, by Design Plus Architects
Indian cities borrow their vibrancy from the informality they offer. From the distribution of land use to the interactive built-open relations. The one way we differ from any Western principle of planning is our sustenance on organized chaos. Diu offers rich, multi-varied, yet seamlessly bound cultural layers. We attempt to continue the lineage of this beautifully modest city with a sustainable [ecological and cultural] proposal.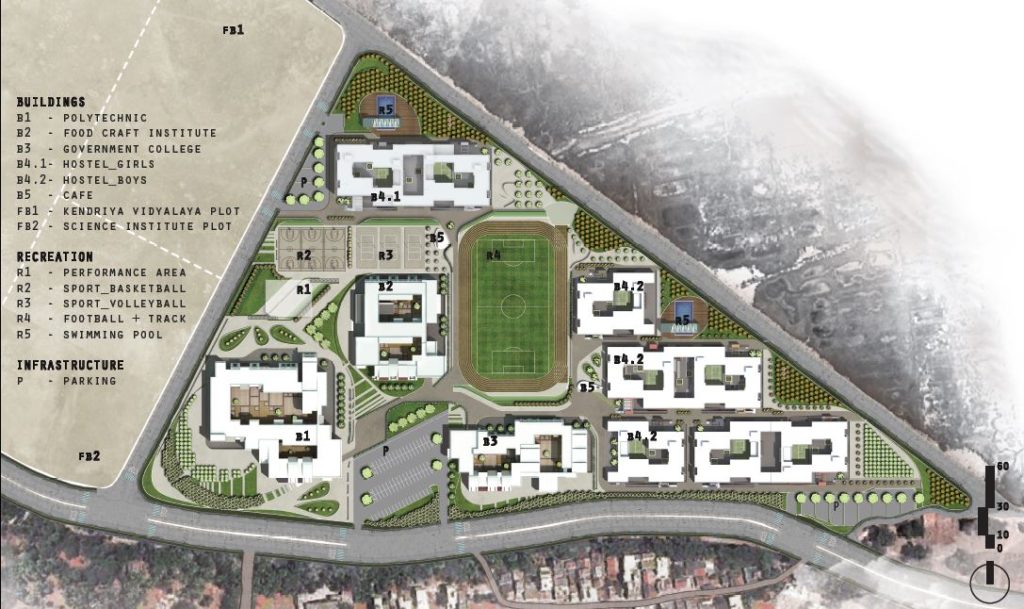 In Parallel, we believe that educational buildings are WONDERFUL PLACES. They should enthuse 2 primary aspects:
1. Pragmatics- by ensuring that the users and their program are synchronized in their daily operation.
2. Wonder- By instilling a sense of belonging and providing an urban character that activates both the built and the spaces between the built.

Principles of Design as Layers of Information
These include both Objective and Subjective conversations: Ecology + Density + Cultural Influences + Climatic Response + Operational Requirements.
Excerpts from the Ecology research
Vegetation 70% mud flats + mangroves
Aquifer recharge- substantially charged aquifer
Erodability- medium to high
Geology- yellowish brown calcareous soils 0.3 to 1.8m thick, fine to medium grained, coarse in rocky areas
Surface Water- regional topography ensures high surface water
Tidal Inundation- high tide area, CRZ 4
The region is an eco-sensitive zone. Ground salinity, mud flats, high water table, extreme surface water, erodibility provide important design constraints. We proposed physical + geotechnical + biological amelioration for a sustainable and inspiring educational habitat.
High Density- The high program requirement, derived from AICTE + UGC + NCHMCT, causes extremely dense packing of buildings on site. This compromises the open space and the living/working conditions.
Encountering sub-ground pressures- The height limitations not only increase ground coverage to almost 70% but also fail to provide a sufficient counter to the upward thrust caused by the high-water table and subsequent loose landfill.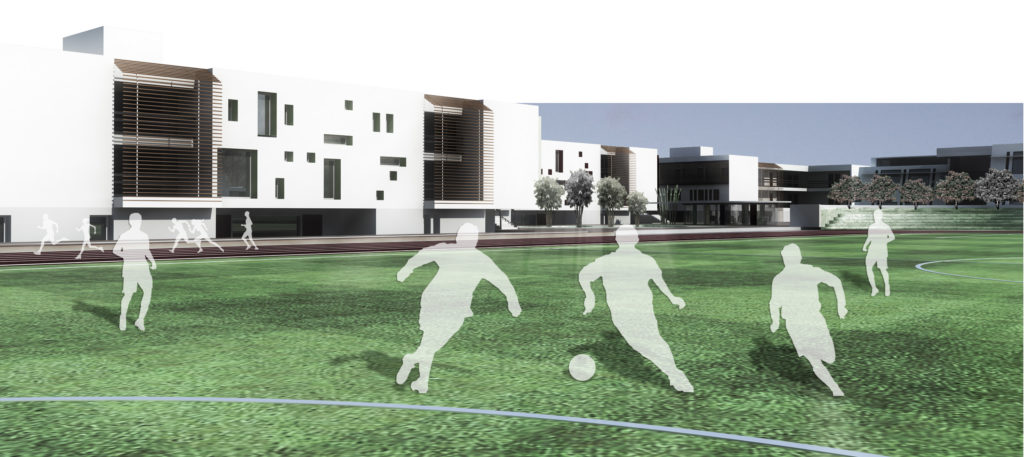 The master plan was also mapped with cultural activity. Each building provides an opportunity to celebrate local festivals. For example,
the courts and terraces of the hostel shall be active during different festive seasons. apart from academia, hostel residents compete/mingle with one another for handi breaking, kite flying and dhuleti.
the retreat of monsoon and commencing of fishing season is in sync with the new academic session and shall be celebrated by a van-parikrama organized for freshmen.
the Diu festival is celebrated in December on campus by organizing an inter-college fest– different pupils from the region mix, perform and interact in the recreational spaces.
the academic and hostel courts would be decorated and well-lit before the Diwali break.
the open field would be used for Navratri celebrations + performances, with landscaped seating serving as viewing galleries.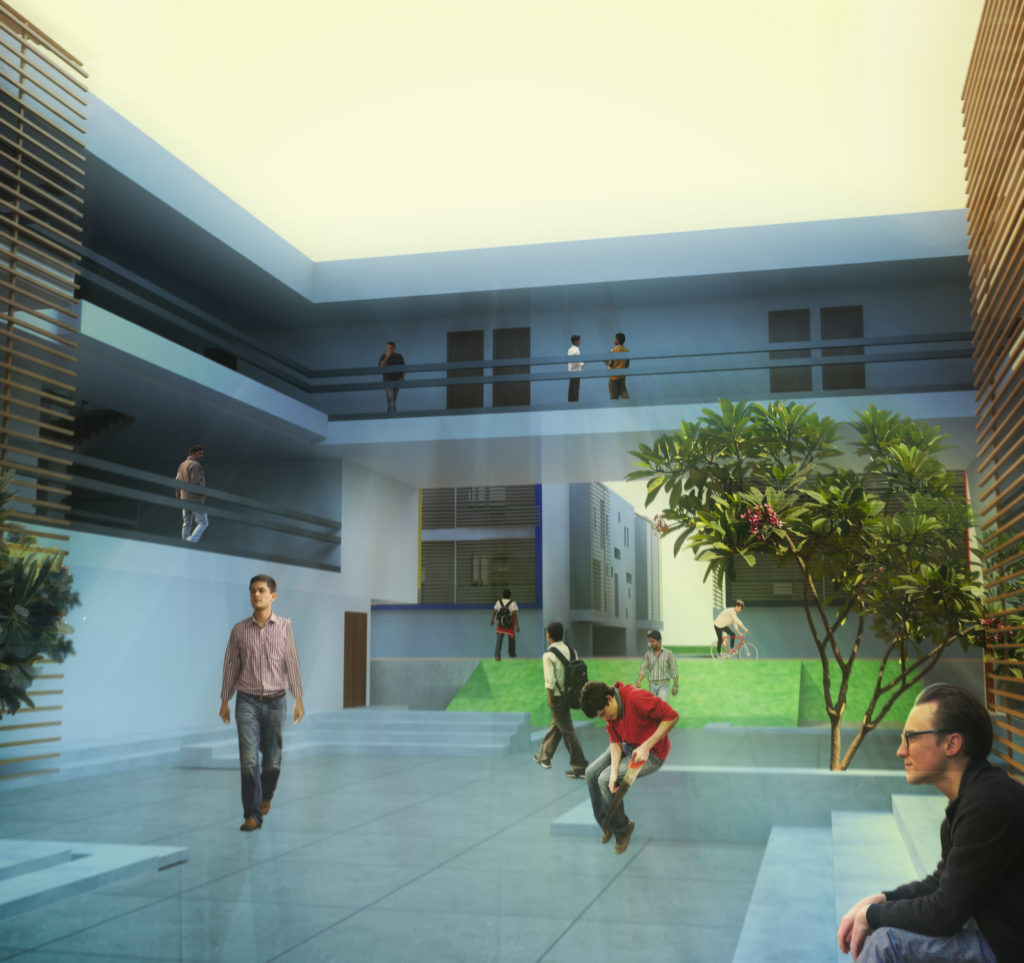 Plantation as a Continuation of Ecology
In the continuing effort to acknowledge the ecology of the land, our plantation strategy revolved around understanding the local species that would:
bind the soil
provide shade
act as markers
instil wonder & pride
treat waste
replenish soil
The plantation caters to specific zones within the campus. While the mangrove forest binds the loose and saline soil at the north perimeter, they also add a sense of belonging, when driving along the site property at the south perimeter. While, the boastful Hoka places itself as an arrival marker, flowering trees like Amaltas, Asoka etc mark academic buildings. similarly, Bamboo and Champa are loyal to hostels.
Circulation and Heat Island Reduction
The campus is a pedestrian-friendly premise. the primary pathway always leads to a program while the secondary pathway permits wandering, embracing the campus landscape and enjoying its various recreation options. The vehicular parking is restricted to the peripheries and caters to the adjacent buildings.
Manoeuvres | Installing Grass Pavers- The porous pavers limit surface runoff and help recharge the groundwater which in turn will reduce salinity.
Manoeuvres | Use of Cool Pavements- Light-colored concrete (higher albedo/reflectivity) remains cooler than dark-coloured asphalt road and has better compressive strength.
Manoeuvres | Reduction in Lighting Load- high albedo concrete lowers lighting costs by 30%.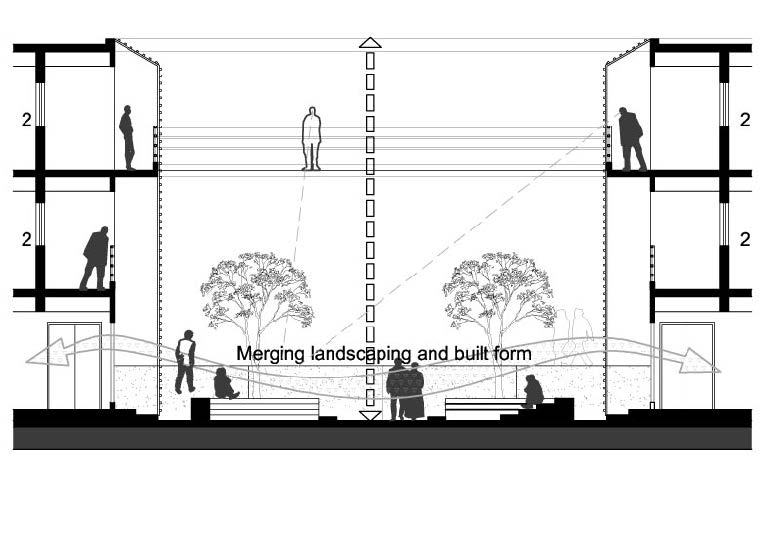 Conversations on Building Design
Residential/Hostel Building
Each hostel block opens onto activated streets, borrowing from the local concept of the OTLA, which opens the extended activities of the house onto the street.
Hostel blocks are paired to share a terrace at the upper ground level that extends onto the street, via a system of gradual ramps.
Colour-specific entries to each hostel court are defined via a system of double-height false walls.
Two hostel blocks (200 students) share an intimately scaled court at the lower ground level, key to a close-knit community.
The courts open out on the north and south sides, plugging into the larger student body via the activated streets.
The proportions of the hostel courtyard were determined by maintaining the careful balance between Daylight Penetration and Heat Gain%.
Further Passive cooling elements were added such as recessed glazing, screens and courtyard softscape
Programmatically, each hostel block type had independent wardens, lobbies, sick room facilities, common rooms and reading rooms. Every two hostel blocks share the dining mess and laundry facilities.
Academia/College Buildings
The three academic buildings are varied in program and operation but are united in image. Synchronized planning and architectural character (courtyard planning, orientation, access, building profile) all lend support to bind the campus as one.
A common strategy was adopted to treat the facades of all academic buildings. we propose the use of double skin to counter multiple climatic concerns. The methodology used contained – Screens, Double Skin, Recessed glazing, Sloping profiles with Rain-drains, North/Diffused Lights, and Insulated Terraces.
Active courtyards with shading devices – The annual shadow analysis study demonstrated the need to shade the courtyard to enable a comfortable microclimate. This was coupled with Courtyard Softscape.
Drawings
Project Facts
Typology: Institutional | Higher Education Campus
Title: Diu Educational Hub | Competition Entry
Location: Diu, Daman and Diu, India
Client: Government of Daman and Diu
Site Area: 25 Acres
Estimated Built-up: 5,50,000 Sq.Ft.